Fans from 1 to 5000 kW
...from the customer's request to the personalised product !

...from raw materials to the final product !
Fans Special Process
Your project incorporates a fan. In spite of many documents at hand, you are not finding the appropriate machine in the catalogues.
A fan is however always an apparently simple device, just intended to move air or gas ; but this time, additional and unusual requirements complicate the deal :
the air is associated with a number of abrasive metal oxide particles.
no special steel, even no stainless steel, would resist corrosion in your process.
your 850°C furnace needs gas circulation to equalise its temperature.
your circuitry requires gas tightness as an inert atmosphere is a necessity.
| | | |
| --- | --- | --- |
| | | |
| High temperature fan | | Fan for petrochemical industry |
De Raedt's Special Process line can help you out. A careful analysis of your specifications will generate a suitable approach to solve the problem, in line with the most severe Quality Insurance criteria.
Fans Modular
Your installation does not need a Special Process fan, we can then help you thanks to our Modular. Indeed, the new range Modular Fans is a quality equipment, which was developed following new methodology and stringent standards to offer a high quality equipment with similar performances to the Special Process range. This new approach guarantees you a high quality product at a very attractive price within a short time limit.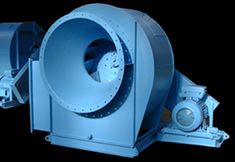 Modular
This series of fans is composed of 3 ranges with different aeraulical characteristics. Together these 3 ranges have total pressures going to 1400 daPa and 100 m³/s flow for a maximal temperature of fluid of 350°C.
Moreover these fans are thought out to transport air with a maximum dust content of 150 mg/m³ and can be delivered with a whole range of options.
Fans Multi-Applications
If you need small dusting of smoke exhaust fans you can always rely on our Multi Applications range. This range is composed of axial and centrifugal fans of all sizes with a lighter design. De Raedt is distributing these products thanks to a long and reliable partnership with other European companies which allows us to offer our customers a full range of fans and blowers. Although it is not a production of De Raedt, this material has all the confidence of our company and we offer for this material the same guarantees and services than for our own production. Among these fans we can quote : roof fans, plastic fans, smoke exhaust fans, wall mounted fans, ...
| | |
| --- | --- |
| Axial fan | Plastic fan |
| Wall mounted fan | Centrifugal fan |
Some types can be delivered in explosion proof or stainless steel version with options such as vibrations absorbers, flexible connections, frequency variator, ...
Environment
To solve the problems of his customers, De Raedt works with the company airEpur for the Benelux, which is very active in odour treatment and gas cleaning installations.
Thanks to its long experience, the company airEpur proposes mainly wet scrubber solutions. That is to say a chemical-physical process, which consists in neutralising harmful substances or odours by means of chemical reagent dissolved in water.
| | |
| --- | --- |
| Vertical scrubber | Venturi scrubber |
The range consists of vertical and horizontal wet scrubbers, venturi-scrubbers, quench-scrubbers and demisters.
If you need further information about our partner airEpur, you will find it on its site.
---
© 2000 De Raedt - updated 29/11/2001